2001 Vauxhall Corsa, cast iron, bronze leaf, 4'9" x 5'3" x 12'3", 2010, Kidwelly Industrial Museum, Wales, Video by Maris Strautmanis
Cast on site at the 6th International Conference of Contemporary Cast Iron Art. (Red Dragon Furnace) Furnace Director: Andy Griffiths, Pour Captain: Chris Keating.
Palus Somnii (Marsh of Sleep)
Cast during the 6th International Conference of Contemporary Cast Iron Art, using a stripped Vauxhall Corsa as a flask, molten iron was poured directly into the vehicle's interior. The act of the pour itself, or "Transmission," was intended to redescribe the car in relation to the material of its own creation and our own experience. The public iron pour presented an elemental material and an ordinary vehicle as explosive spectacle, similar to the explosive introduction of petroleum into our culture and environment. Once unmolded, the car and its interior forms of a Mississippi River carp and giant horsetails became a narrative about cars and their relationship to the environment; specifically their reliance on fossil fuels derived from primordial sources and our reliance on increasingly scarce and environmentally destructive fuel resources.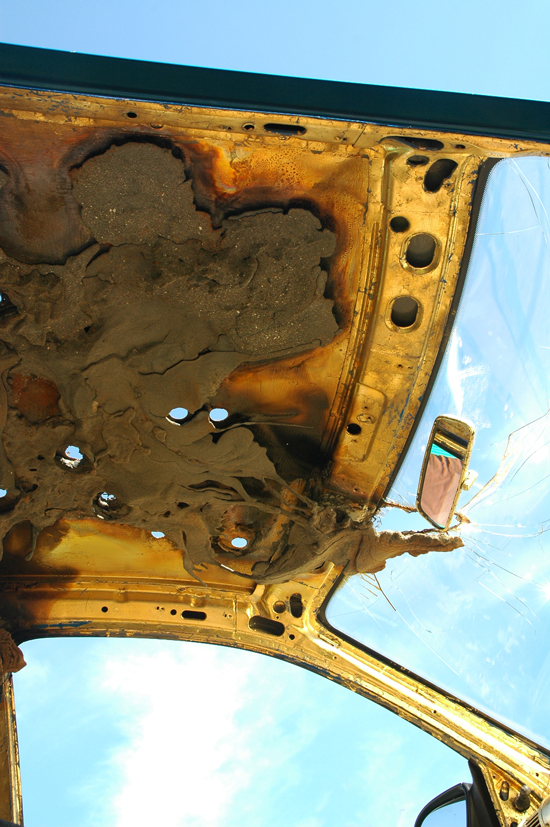 Contributors
Berllanderi Sculpture Workshop and the Arts Council of Wales
St. Catherine University Academic Community Development Committee Faculty Research Grant, SCU Abigail Quigley McCarthy Center for Women, SCU Student Senate, Starseed Foundation, Karin and Richard Ringler, West Wales School of the Arts, with material support from Custom Tube Co. and numerous sponsors.
Special Thanks to: Harvey and Sue Hood, Justine Johnson, Deborah LaGrasse, Matthew Tomalin, Andy Griffiths, Maris Strautmanis and Lauris Strautmanis